「どっぴんしゃーらー」MV
by aki on 12/17/2017
NHKみんなのうた「すっぽんぽんぽん」のアニメーションを制作したご縁で、
同じく岩崎愛さんがうたう「どっぴんしゃーらー」という楽曲の
ミュージックビデオをパペットアニメーションを制作させていただきました。
金のしゃちほこと女の子のお話です。
今和人形の世界を人形の頭作りから学んでいるところなのですが、
少しだけ、その世界を入れることができました。
暗くなりがちな和の人形アニメーションの世界を 
光と、色彩を使い、さらに伝統的な人形作りの手法と融合させることによって、
肌触りやぬくもりを感じることができるよう、
明るくポップに仕上げることに挑戦した"和ファンタジー"なアニメーションMVです。
是非ごらんください。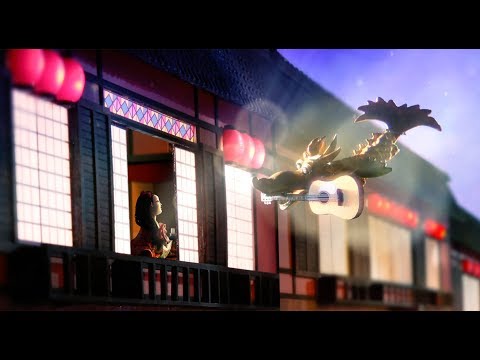 Aki Kono makes a colorful puppet animation with a song "Dopin-syara" written by a japanese singer "Ai Iwasaki"
this film uses Light and Color a lot compared with the traditional japanese puppet animation.
Lingts & Color makes this film more enjoyable.
On the other had, Aki uses a traditional method of makeing a japanese puppet in this film.
This tradional method makes her film nostalgic.
To mixing a traditional making method and a new way of using modern light and color, Aki arrange a classic puppet animation into a pop one.
you can meet a japanese beautiful kimono girl made by  figured paper called Chiyogami.
And also you can enjoy the misterious night world of Golded dolphin "Dopin-shara".
Aki express a new japanese puppet animation world made by handmade puppets and objects.
Please enjoy  the new animation world you have never seen.